Visit our e-commerce website for Conferences, Webinars, Medical Membership, eBooks etc [More Details]
Medical Professionals Become an LDN Specialist [More Details]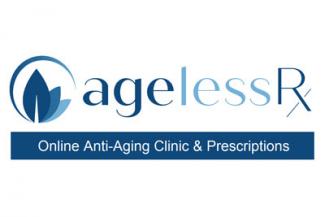 Contact Details
Website
About Us:
AgelessRx is an online anti-aging clinic that provides access to prescription therapies shown to safely lower the risk of age-related diseases.  Every day, 100,000 people die from aging-related diseases. We think that is an unacceptable tragedy. Our mission is to help people live longer by accelerating the progress and adoption of therapies that prevent age-related diseases, and which reverse age-related damage. We do this by providing direct access to safe, scientifically-proven prescription therapies shown to work (LDN, NAD+, Metformin, etc.).
Special offer to LDN Research Trust Readers:
$20 off your LDN prescription - use Coupon Code: LDNT20
LDN Prescription Info:
https://www.agelessrx.com/ldn-purchase

LDN Specialist
David Nicholas Dahl, DO

Naltrexone is commonly known as a medication commonly prescribed for patients suffering from addiction. Naltrexone has been approved by the FDA for over 30 years, typically at 50mg or greater per day. But, lower doses of Naltrexone (referred to as Low Dose Naltrexone or LDN) has a wide variety of research supporting how it can help a large span of health issues.
In recent years, there's a growing number of clinicians prescribing LDN. LDN is about one tenth or less of a typical 50mg Naltrexone dose (about 10mg/day or less). It has been prescribed off-label for a variety of conditions, including anxiety, fibromyalgia, multiple sclerosis, rheumatoid arthritis, thyroid dysregulation, ulcerative colitis, and even Crohn's disease.
This off-label use started back in 1985 when New York-based Dr. Bernard Bihari noticed that his patients weaning off of Naltrexone for addiction seemed to have positive side effects for other health conditions, such as HIV. Curious, he and his staff implemented a placebo-controlled trial of 38 patients with AIDS. The results spoke for themselves: the patients saw a significant reduction in opportunistic infections and improved levels of specific markers of inflammation.
As a result of Dr. Bihari's trial, dozens of studies on Low Dose Naltrexone have since been released.
A 2007 study on LDN and its effects on Crohn's disease resulted in 67% of patients achieving a remission, with marked improvement in quality-of-life surveys compared with baseline.
Another study conducted in 2013, focused on LDN and fibromyalgia, resulted in a "significantly greater reduction of baseline pain in those taking Low Dose Naltrexone than in those taking placebo." It was even reported to improve general life satisfaction and better mood.
More recently, a 2019 study focused on LDN's effect on rheumatoid arthritis, found that "persistent use of LDN reduced the need for medication" for patients with the condition.
There are three main hypothesis for how LDN works:
LDN positively impacts endorphin levels, which may improve mood and decrease pain
LDN is believed to affect the brain's microglia cells, which may lead to less pain, fatigue, and lower inflammation
LDN is also believed to regulate the immune system based on its effects on endogenous opioids (Met-Enkephalins)
While these three theories are still being researched and tested, the promising studies involving LDN so far provide hope for those suffering from inflammation, fatigue, and chronic pain.
Additionally, there is an increasing amount of anecdotal evidence regarding Low Dose Naltrexone. A quick web search will show a variety of online groups with thousands of members sharing their positive experiences.
For example, a survey of over 1,000 23andMe users resulted in Low Dose Naltrexone being ranked the number one most effective product for fibromyalgia, rheumatoid arthritis, and Crohn's Disease.
There have also been several documentaries filmed on the topic of LDN and how it has improved the lives of people with a variety of conditions. The most well-known one, "Our Small Country", is a Norwegian program that aired in 2013 on the biggest television network in Norway. After it aired, the number of Low Dose Naltrexone prescriptions skyrocketed from 300 to 15,000 a year, with 75% of doctors in the country prescribing it.
There have also been lots of books published on the topic, as well as non-profits like the LDN Research Trust who are dedicated to educating physicians and patients alike about Low Dose Naltrexone's potential benefits.
To learn more about LDN, read supporting clinical studies, or complete a free online visit with a medical professional to discuss treatments, visit agelessrx.com.