Avocado Chocolate Ice Cream
Visit our e-commerce website for Conferences, Webinars, Medical Membership, eBooks etc [More Details]
Medical Professionals Become an LDN Specialist [More Details]
If you've never had Avocado Ice Cream, then you are in for a real treat! This dairy-free frozen dessert is creamy, healthy, and so delicious. You don't need any special equipment besides a blender and your freezer to make this ice cream.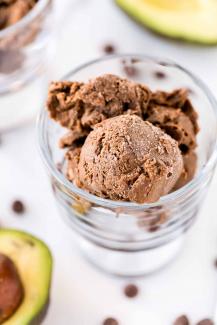 2 ripe avocados, cut in half with the flesh scooped out
1/4 cup cocoa powder
1/2 cup coconut beverage (the kind that comes in a carton)
1/2 teaspoon vanilla extract
1/2 cup maple syrup
Combine the ripe avocados, cocoa powder, coconut beverage, vanilla extract, and maple syrup in the pitcher of a blender.
Blend the ingredients for about 30 seconds, or until they are thick and creamy, with no chunks. You may need to stop and scrape down the sides to ensure that everything gets fully blended.
Then, use a spatula to transfer the blended ingredients into a freezer-safe bowl. Freeze the ice cream for at least 4-6 hours before serving.
Then, remove the container from the freezer and use an ice cream scoop to serve the avocado ice cream.
notes
I like using a high-speed blender for this recipe, but you can also use a regular blender or a food processor.
I like to use Homemade Coconut Beverage for this recipe. You can also use the coconut beverage you find in a carton (not coconut water) or canned light coconut milk. In a pinch, you can also use almond milk or your favorite non-dairy milk.