The LDN 2021 Conference Recordings Now Available with up to 29 CME Credits [More Details]
Medical Professionals Become an LDN Specialist [More Details]
We are proud of our Pharmacy Advisors, who go the extra mile in helping both medical professionals and patients alike.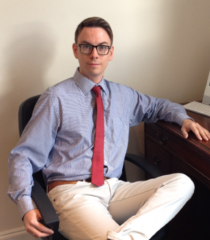 Stephen Dickson, BSC (hons), MRPharmS has been working with LDN for over a decade in the UK. He works together with pharma partners in the industry to stabilise the supply chain and standardise methods of obtaining prescriptions in a safe and compliant manner. As well, he runs the well established private medical department of Dickson Chemist, and also runs 7 NHS pharmacies in Glasgow, Scotland. 
Stephen also works in several other businesses, owning a technology company responsible for dispensing the majority of the methadone in the UK in community pharmacy (MethaMeasure), and one of the largest online controlled drugs systems in the UK (CDRx).
In his spare time, Stephen plays guitar in several bands (including a Ceilidh band), is on the board of directors of a semi-professional theatre group (where he generally functions as the costume guru); oversees their MethaMeasure North American operation; and is a frequent speaker at LDN conferences internationally. 
Dr Mark Mandel is a registered pharmacist who specializes in Bio-Identical Hormone Replacement Therapy (BHRT), pain management, and the treatment of chronic health conditions with natural pharmaceutical alternatives and Complementary Medicine (CAM). He has been a proponent of LDN since 2007, counsels patients and clinicians from around the world on its uses and potential benefits and compounds LDN in a variety of forms and strengths. He is the owner and president of Mark Drugs Roselle, a compounding pharmacy located in Roselle, IL; and the co-owner of Mark Drugs Northshore located in Deerfield, IL. Mark is a graduate of the University of Illinois College of Pharmacy (1983) and completed his Doctorate of Pharmacy at Midwestern University in Downers Grove, IL in 2007. He is the host of the weekly radio health show, "The Dr and the Pharmacist", which airs at 10 am Central Time, on Saturday mornings on WYLL AM 1160; and may be heard online at www.1160hope.com.
Mark has been a preceptor for pharmacy students from all over the USA since the 1990s, and has educated hundreds of student pharmacists on the topics of CAM, compounding, and durable medical equipment.
Mark speaks regularly to physicians, pharmacists, nursing and community groups, providing insights on how natural pharmaceutical alternatives and prescription compounding can enhance patient care and quality of life.
Mark believes, when possible, in approaching patient care from a "ground up" point of view; that traditional medicine alone tends to treat chronic illness with a band-aid approach rather than going after the real culprit, the source of the problem.
Mark believes that many chronic health conditions such as rheumatoid arthritis, hypertension, high cholesterol, obesity, insulin resistance and diabetes, intestinal and gastric problems can be ameliorated and potentially eliminated by complementing allopathic medicine with combinations of natural pharmaceutical alternatives and lifestyle changes that are easy to use, safe and effective.
Mark lives in Schaumburg with Sarah, his wife of over 30 years. They have three daughters, Rachel, Rebecca and Shannon and grandchildren, Clara and Danny.