Visit our e-commerce website for Conferences, Webinars, Medical Membership, eBooks etc [More Details]
Medical Professionals Become an LDN Specialist [More Details]
These Banana Carrot Muffins are a delicious grab-and-go breakfast or snack. They are sweet and satisfying with a great texture. This recipe is made gluten-free and dairy-free with a vegan option.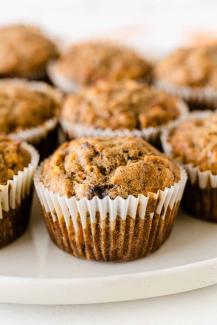 Nonstick cooking spray
1 3/4 cups gluten-free baking flour (I like Bob's 1-to-1 Gluten-Free Baking Flour)
1 1/2 cup tightly-packed shredded carrots (from 4 or 5 medium carrots)
1 teaspoon baking powder
1 teaspoon baking soda
1 teaspoon ground cinnamon
2 eggs, beaten (use two flax eggs or chia eggs for vegan*)
1 cup mashed banana (from 3 medium-sized ripe bananas)
1/2 cup maple syrup
1 teaspoon vanilla extract
1/3 cup coconut oil or ghee, melted
Preheat your oven to 375°F. Spray a muffin tin lightly with nonstick oil and set aside.
In a large mixing bowl, combine the flour and shredded carrots. Stir to combine.
Add the baking powder, baking soda, and ground cinnamon. Stir and set the bowl aside.
In a small mixing bowl, combine the eggs, mashed banana or applesauce, maple syrup, vanilla extract, and melted coconut oil or ghee. Stir to combine.
Pour the wet ingredients into the dry ingredients and stir to combine. 
Divide the batter between the muffin wells. Bake for 25-28 minutes, or until the tops are golden brown and a toothpick inserted into the center of a muffin comes out clean.
Let the muffins cool for a few minutes before removing them from the muffin tin. Serve warm, or at room temperature. 
notes
Store any leftover baked muffins in a tightly-sealed container in the refrigerator for up to 4 days. Or, place any leftovers in a zip-top bag and freeze for up to 2 months. 
*To make 2 flax or chia eggs, combine 2 tablespoons of ground flax or chia seeds in a bowl. Add 6 tablespoons of water. Stir and then let the mixture sit for 5 minutes before using.
If you aren't on a gluten-free diet, you can use regular all-purpose flour instead.
Use coconut oil instead of ghee for dairy-free diets.
You can substitute applesauce for the mashed bananas if you prefer.
Don't use pre-shredded carrots from the store for this recipe. Shred your own using the shredding disk on a food processor (or a large cheese grater).