Brocolli Mornay with a Salsa Sauce
This recipe can be adapted for Vegan, Keto etc It can be served as a main meal or side dish it is quick and easy to make and really tasty!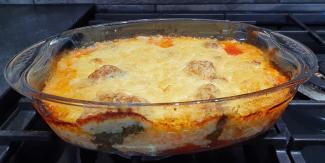 Ingredients
3 cups broccoli florets
1/2 cup grated cheese (for the topping)
Salsa Sause
1 tin chopped tomatoes
1 large onion
chilli paste
2 tbs extra virgin olive oil
Fresh Ground Hymalyn Salt and Black Peper 
Cheese Sauce
1/2 pint milk (any can be used)
2 1/2 tbs cornflour (or coconut flour)
Fresh Ground Hymalyn Salt and Black Peper 
1/2 tsp Dijon mustard
1 1/2 tsp butter
1 cup cheese (grated)
Fresh Ground Hymalyn Salt and Black Peper 
Method
1. Heat the oven to medium temperature.
2. Steam the broccoli florets until nearly cooked, set aside.
3. For the salsa source, chop the onion finely in the oil until tender, add the chilli paste and salt and pepper depending on our taste.
4. Make the cheese sauce by putting the milk and butter in a microwave jug and heat until hot. Mix the cornflour with a little water, whisk into the milk and reheat in the microwave into it starts to bubble. Add the mustard, salt and pepper, check the seasoning and then add the cheese which will melt stir well.
5. Put the salsa in the bottom of an oiled ovenproof dish, add the broccoli, cover with the cheese sauce and sprinkle the remainder of the greater cheese ontop.
6. Place in a preheated until the cheese is browning on the top.
This dish can be frozen and cooked from the freezer in the oven
it tastes just as good as it was when fresh.