Looking for a healthier pizza, without wheat gluten or any flour?  Here's a tasty crust from the nice people at North Dakota State University.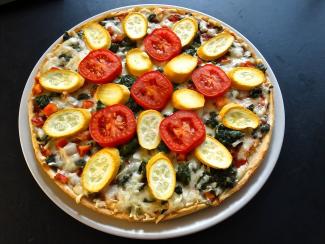 1 medium head of cauliflower
1 egg, large
1 tsp. Italian seasoning (dried oregano or basil)
1/8 tsp. salt
¼ tsp. ground black pepper
½ c. Parmesan or mozzarella cheese, grated/shredded
Cooking spray
Directions
Preheat oven to 375 F. Line baking sheet with parchment paper.
Rinse cauliflower, remove outer leaves, separate into florets and chop into smaller pieces. Process in food processor in two batches until "rice" texture forms.
Transfer to baking sheet and bake for 15 minutes. Remove cooked cauliflower rice from oven, transfer to a bowl lined with linen towel and let cool for five minutes.
Squeeze liquid out of the ball (cauliflower inside cloth). Repeat several times until barely any liquid comes out.
Increase oven temperature to 450 F.
Whisk egg with dried herbs, salt and pepper in a bowl for 10 seconds. Add cheese and cauliflower to mixture and mix very well with spatula until combined.
Line same baking sheet with new parchment paper and spray with cooking spray.
Transfer cauliflower dough to the middle of the baking sheet and flatten with hands until thin pizza crust forms.
Bake 20 minutes, then flip with spatula and bake for a few more minutes (approximately two minutes). Top with toppings and bake again until cheese on top turns golden brown (approximately five minutes).
Makes eight servings. Each serving has 50 calories, 2 g fat, 4 g protein, 4 g carbohydrate, 1 g fiber and 160 mg sodium.
Courtesy of
North Dakota State University website