Chocolate Cherry Smoothie
Visit our e-commerce website for Conferences, Webinars, Medical Membership, eBooks etc [More Details]
Medical Professionals Become an LDN Specialist [More Details]
I hope you will agree that this recipe for Chocolate Cherry Smoothie is absolutely delicious. Frozen sweet cherries blended with cocoa powder and a hint of maple syrup and vanilla extract is an absolutely heavenly combination! This recipe is dairy-free, vegan, and paleo, and only takes a few minutes to make.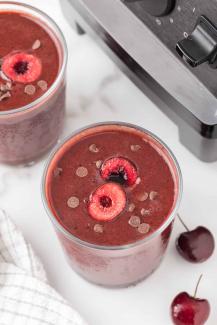 2 cups frozen sweet cherries
1/2 cup coconut beverage (the kind found in a box)
2 tablespoons maple syrup (or two pitted dates)
1 tablespoon cocoa powder or 2 teaspoons cacao powder
1/2 teaspoon vanilla extract
1/2 frozen cauliflower (optional)
Place your frozen cherries, milk, maple syrup, cocoa powder, and vanilla in the pitcher of a high speed blender. Add the protein powder and frozen cauliflower, if you are using.
Blend your ingredients on high for about 30 seconds, or until the smoothie is completely blended and creamy.
Serve immediately, or cover and refrigerate for up to 48 hours.
notes
You can easily double or triple this recipe depending on how many servings you want.
You can substitute two pitted dates for the maple syrup, if you prefer.
Add a scoop of protein powder to make this a meal replacement.
The nutrition data included with this recipe does not include the protein powder or cauliflower, and is only an estimate.
Reduce the amount of milk in this recipe to 1/4 of a cup to make this a smoothie bowl.