A Comprehensive Guide to Going Sugar-Free
Visit our e-commerce website for Conferences, Webinars, Medical Membership, eBooks etc [More Details]
Medical Professionals Become an LDN Specialist [More Details]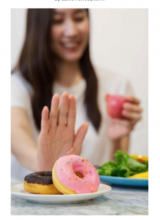 A Comprehensive Guide to Going Sugar-Free By Carrie Forrest, MPH
Cutting sugar out of your diet is one strategy to lose weight and feel healthier, but it can be a tough transition. Here are eight tips to go sugar-free without going crazy, plus ideas on what to eat on a low-sugar diet. 
Sugar is highly addictive and can control you. Some studies have shown sugar to be more addictive than cocaine and nicotine. Prolonged intake of sugar has been linked to mood disorders, obesity, diabetes, and other serious metabolic disorders.
It may seem like a struggle to go sugar-free at first (and it can be!), but it will get easier. Experiment with the tips included in this article and you're much more likely to beat the sugar blues without going crazy.
Permission was granted from Carrie Forrest, MPH for the LDN Research Trust to share this PDF Click here