Does LDN help with Autoimmune Disease?
Visit our e-commerce website for Conferences, Webinars, Medical Membership, eBooks etc [More Details]
Medical Professionals Become an LDN Specialist [More Details]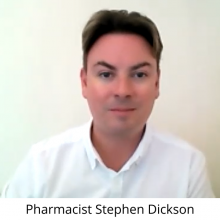 LDN Specialist Pharmacist Stephen Dickson
Does LDN help with Autoimmune Disease?
My dad has a pacemaker, diabetes, high cholesterol and BP, arthritis; multiple surgeries for back, knees, shoulder etc; has always been husbands live over years anxious pushes themselves still working full time at 75, seems to stop being busy doing because of pain. Could LDN help?
Obviously the answer there is absolutely, of course. He has clearly got metabolic syndromes. He clearly has autoimmune stuff going on, with all joints. You know LDN is absolutely the first thing to be looking at as long as he's not taking an awful lot of opiates. So yes, definitely.
Answered by Stephen Dickson, BSC (hons), MRPharmS
LDN Specialist
For further Q&A's visit https://ldnresearchtrust.org/questions-and-answers