Ground Chicken Lettuce Tacos with Mango Salsa
Visit our e-commerce website for Conferences, Webinars, Medical Membership, eBooks etc [More Details]
Medical Professionals Become an LDN Specialist [More Details]
Ground Turkey Lettuce Tacos with Mango Salsa is the perfect low-carb, flavorful dinner recipe. Add this 30-minute meal to your next meal prep. Gluten-free, grain-free, and super yummy!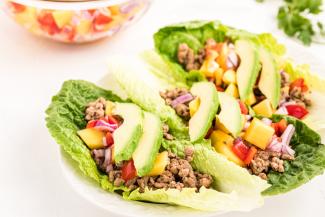 1 ripe mango

¼ red onion, minced

½ red bell pepper, chopped

2 medium limes, juiced

1 lb. 93% lean ground chicken

¼ teaspoon ground cumin

1 teaspoon dried oregano

salt and pepper, to taste

1 head of romaine lettuce

1 avocado, sliced
First, make the salsa. Peel and cut the mango into bite-sized pieces. Place in a bowl with the red onion and red bell pepper. Pour in the lime juice and stir it all together.

Let the salsa sit on the counter or in the fridge for at least 30 minutes so the flavors can combine.

Next, heat a non-stick skillet over medium heat. Stir in the ground chicken and use a spatula to break it up so it cooks evenly. Add the cumin, dried oregano, salt, and pepper for seasoning.

When the chicken is completely cooked, remove the skillet from the heat and cover with a lid to keep warm.

At this point, you'll want to get the lettuce ready for serving. Chop off the base of the romaine and carefully pull off 8-10 of the outer leaves, being careful not to tear them. Wash them gently and pat them dry.

When you're ready to assemble the tacos, use a big serving spoon to fill the leaves with the cooked chicken, topping off each lettuce cup with some salsa.

Serve the tacos with the avocado on top.
Courtesy of
Carrie Forrest, MPH 
For more photos and nutritional information for this recipe, please visit the website