Keto Crockpot Chicken Thighs with Cabbage
Visit our e-commerce website for Conferences, Webinars, Medical Membership, eBooks etc [More Details]
Medical Professionals Become an LDN Specialist [More Details]
For busy weeknights, here's an easy and delicious Keto Crockpot Chicken Thighs & Cabbage recipe that your family will love! This one-pot meal pairs flavorful chicken thighs with tons of veggies. This recipe is low-carb, Whole30, paleo, gluten-free and dairy-free.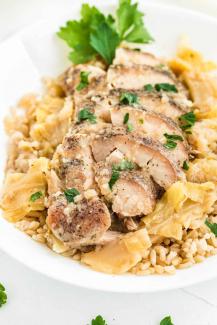 1 large head of green or red cabbage, coarsely chopped
1 pound bag of cauliflower rice or 1 medium head of cauliflower, broken into florets and riced in a food processor
2 pounds bone-in (or boneless, if you prefer) chicken thighs (about 6–8 pieces)
1 cup chicken broth
1/2 teaspoon garlic powder
1 teaspoon Italian seasoning
1 teaspoon sea salt
1/2 teaspoon ground black pepper
Place the chopped cabbage in the bottom of a large slow-cooker (at least 6 quarts). Add the cauliflower rice on top.
Next, place the chicken thighs on top of the vegetables and add the broth, garlic powder, Italian seasoning, salt, and pepper.
Cover the slow-cooker with the lid and set to cook on high for at least 6 hours (or up to 8 hours).
Serve the chicken and veggies hot, and be sure to remove the bone before consuming.
NOTES
You can use bone-in or boneless chicken thighs or chicken cutlets.
If you aren't on a low-carb diet, this recipe goes great with cooked rice, pasta, or mashed potatoes. Otherwise, just serve it right out of the pot as is. 
Store any leftovers in a tightly-sealed container for up to 4 days. Reheat before serving.