Keto Mexican Rice is a flavorful side dish that is made using cauliflower. This low-carb rice dish is full of authentic flavor and can replace regular rice when you're watching your carb intake. Gluten-free, grain-free, and keto-friendly.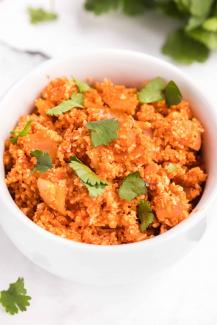 1/2 head of cauliflower, washed and broken into florets (about 3 cups)
2 tablespoons olive oil or avocado oil
½ onion, chopped
2 garlic cloves, minced
½ teaspoon sea salt
¼ teaspoon ground black pepper
¼ cup tomato paste
1 tablespoon chopped cilantro (optional, for topping)
Place the cauliflower florets in the bowl of a food processor fitted with the "S" blade.
Process on high for about 15 seconds, or until the cauliflower florets have been broken down into cauliflower rice.
Transfer the cauliflower rice to a mixing bowl and set aside.
In a medium skillet, heat the oil over medium heat. Add the onion and garlic and sauté for about 3-4 minutes, or until the onion start to soften.
Add the cauliflower rice, sea salt, and pepper, and sauté for another 3-4 minutes, stirring often to keep the cauliflower from burning.
Then, stir in the tomato paste and cook the rice for 5 more minutes.
Turn off the heat and sprinkle the top of the rice with the chopped cilantro. Serve immediately.