Low Dose Naltrexone (LDN) and Traumatic Brain Injury
Visit our e-commerce website for Conferences, Webinars, Medical Membership, eBooks etc [More Details]
Medical Professionals Become an LDN Specialist [More Details]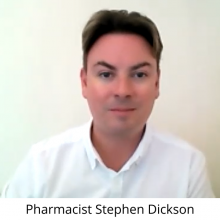 LDN Specialist Pharmacist Stephen Dickson
Dickson Chemist
The next question that we have is a patient asking about the use of LDN with traumatic brain injury.
So, this is someone who's either had a concussion or a stroke, or something physical happens to the brain. There's quite a lot of information on this available, and in fact, in the last conference Dr Sarah Zielsdorf did a most amazing presentation on this, I couldn't possibly hope to touch in two minutes. But she was very clear and explained very well. What I do remember is that last year there was actually a paper published in PubMed that was showing that in the animal model, naltrexone was neutral protective against traumatic brain injury in an animal study, so that was actually published properly last year.
So I think the answer to that is yes. It would very much depend upon the condition and the individual situation, and you wouldn't want to give LDN instead of just an antiplatelet agent or an anti-stroke agent when someone's had a stroke, but then if you've got someone who's suffering with symptoms post-concussion for a long time, as Sarah has said in the past, it wouldn't be a bad idea to use it. I think if the person is asking that and wants more information, just have a quick look again. I think I might have seen this a lot on the LDN Research Trust link to the to the presentation which Sarah did last time.