Microscopic Colitis and Low Dose Naltrexone (LDN)
Visit our e-commerce website for Conferences, Webinars, Medical Membership, eBooks etc [More Details]
Medical Professionals Become an LDN Specialist [More Details]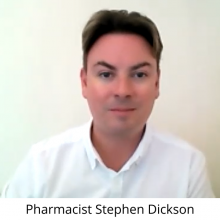 LDN Specialist Pharmacist Stephen Dickson
Microscopic Colitis and Low Dose Naltrexone (LDN)
A patient is saying that they have taken LDN 4.5 milligrams daily for several years because they have microscopic colitis, and didn't want to take steroids; and they don't currently have any symptoms, and they've been avoiding gluten and dairy, and they're wondering whether or not after a few years they should stop taking LDN and see what happens.
That's a really interesting question which comes up for us really quite often: how long should I take LDN? And there isn't really a standard answer for it that we find. We sort of say well, you know, my first go-to place is if you were doing well and nothing else worked why would you why would you put yourself at risk of being unwell again? But then also, you don't want to take something every day if you no longer need it. So, if normally, someone wants to take a break, we'd say well, make sure you've got enough to restart and take a two-week break and just monitor your symptoms. And I'm guessing that's probably very similar to everyone else in the group. But then again, it's one of those things I would say that's on a very individual basis. If you have been doing really really well with something much more severe, then maybe you would want to think twice about stopping LDN.
Dr Sam Lebsock: I would just add that I have a lot of patients who stop it and then three months later they're calling back for their refill because they've had a flare. That's very very common.