Slow Cooker Sweet Potato Chicken Curry
Visit our e-commerce website for Conferences, Webinars, Medical Membership, eBooks etc [More Details]
Medical Professionals Become an LDN Specialist [More Details]
You only need five main ingredients for this delicious Slow Cooker Sweet Potato Chicken Curry. This easy meal is great for paleo, Whole30, gluten-free, and dairy-free diets. Everyone in the family will love this dish and the leftovers are fantastic too.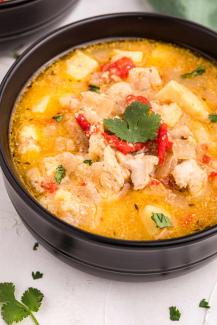 1 pound peeled and cubed sweet potatoes
1 can coconut milk
1 red bell pepper, chopped
1 onion, chopped
1.25–pounds chicken thighs or chicken cutlets, chopped into 1-inch pieces
1/4 teaspoon curry powder
1/4 teaspoon dried thyme
1/4 teaspoon dried ginger
1/4 teaspoon sea salt
1/4 teaspoon ground black pepper
Combine the sweet potatoes, coconut milk, red bell pepper, onion, chicken, curry powder, thyme, ginger, salt, and pepper in the base of a medium to large-sized slow cooker.
Set the temperature to low for 7-9 hours or high for 6-7 hours. 
Stir and serve hot. 
notes
Stovetop directions: Combine the ingredients in a large stockpot. Bring to a boil and then reduce the heat to a simmer. Cover the pot and cook for 30-35 minutes, or until the sweet potatoes are cooked through. Serve hot.
If you don't have chicken on hand, you can substitute a can of chickpeas or black beans. And, instead of a red bell pepper, you could use a can of diced tomatoes.
You can also feel free to make substitutions with the spice blend. If you are missing one or more of the spices, just use more of the others. 
Store any leftovers in a tightly-sealed container in the refrigerator for up to 4 days. Or, you can let the curry cool and then pack it up in freezer containers. Reheat before serving.