This is a colorful, delicious and over-the-top-healthy soup is shared by the amazing people at Nutritionfacts.org.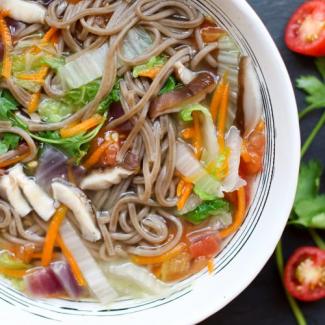 Ingredients
8 oz 100% soba noodles
4-5 cups salt-free vegetable broth or water
1/2 cup chopped onion
1/4 cup white miso paste
2 cups diced tomatoes
2 1/2 cups sliced shiitake mushroom
1 cup shredded carrots
4 cups chopped bok choy or napa cabbage
If you are trying to limit carbs, no problem!  Just replace the buckwheat soba noodles with Miracle Noodles (a.k.a., shirataki noodles or Pasta Slim).  Another low-carb noodle replacement is "zoodles", which is zucchini that has been put through a spiralizer to create noodle shapes.  
Servings: 4
Instructions
Prepare the soba noodles according to the directions on the package, then set aside.

Add 4-5 cups of water or salt-free vegetable broth to a pot, and bring to a boil.

Add the onion, miso, tomatoes, mushrooms, carrots, and bok choy to the water. Cook until vegetables are tender.

Pour the soup over the noodles and top with fresh cilantro just before serving.