Tomato Ketchup and Chili Sauce
Quick and easy to make it is full of flavour and you can adjust to your own taste.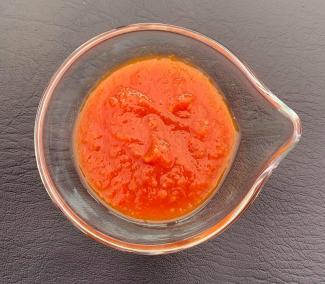 Bouquet Garni
4 whole cloves
1 bay leaf
¼ tsp celery seeds
¼ tsp chilli flakes
¼ tsp allspice
¼ tsp cinnamon
Place the above in muslin/cheesecloth square and tie with string

2lbs fresh tomatoes – roughly chopped
1 medium onion – roughly chopped
1 chilli pepper – seeded and chopped
1 garlic clove – chopped
½ cup cider vinegar
2tbs tomato puree
5tbs sugar or substitute
1 ½ tsp Hymaltan Salt ground and 1 tsp Black Pepper ground 
Method
In a large pan add the tomatoes, onions, chilli, garlic, vinegar, sugar, salt, pepper and bouquet garni.
Cook for 30 minutes until tomatoes and onions are soft
Remove the bouquet garni and liquidise the tomato mixture
You can then strain the mixture to remove the seeds and fibre from the tomatoes, I prefer to leave them in.
Return to the pan and add the tomato puree, simmer until thickened for about 30 minutes
Check the seasoning and add more salt and pepper as required for your taste.
Store in a glass jar and refrigerate, use within a month.
 Tomato Chilli Sauce
 
Make the same as above without straining the mixture, add 1 tsp chilli paste to the tomato puree and simmer for about 30 minutes until thick.
 
Check salt, pepper and chilli and add more as required.
 
 Note
Tinned Tomatoes can substitute fresh tomatoes
You can make a large batch and freeze it in a glass jar, only ¾ fill the jar to allow for expansion.