Vegan Lentil Shepherd's Pie
Visit our e-commerce website for Conferences, Webinars, Medical Membership, eBooks etc [More Details]
Medical Professionals Become an LDN Specialist [More Details]
This delicious Vegan Lentil Shepherd's Pie is comforting, satisfying, and healthy. The mashed potato topping is creamy and luscious. This main dish recipe is a family favorite! Gluten-free, dairy-free, and 100% plant-based.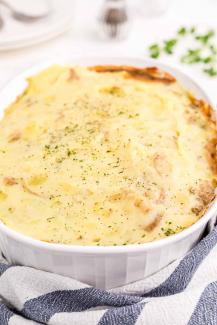 1 pound white potatoes, scrubbed and quartered
1/4 cup unsweetened almond milk
2 tablespoons vegan butter
1 teaspoon sea salt
1/2 teaspoon ground black pepper
2 cups brown or green lentils, rinsed well (this will yield about 5 cups of cooked lentils)
1 tablespoon cooking oil
1 onion or 2 medium shallots, chopped
2 garlic cloves, minced
2 tablespoons tomato paste
1 tablespoon fresh sage leaves, chopped, or 1 teaspoon dried sage leaves
The first step to making a shepherd's pie is to make the mashed potatoes. I like using my Instant Pot Mashed Potatoes recipe. It's the easiest way to make mashed potatoes, in my opinion. You can also cook your potatoes on the stove.
After you cook the potatoes in the Instant Pot or on the stovetop, transfer them to a mixing bowl and use a fork or potato masher to mash them with the almond milk, vegan butter, and salt and pepper. Set the mashed potatoes aside.
The next step to this recipe is to cook your lentils. I also like to make Instant Pot Brown Lentils for this shepherd's pie. Or, you can cook your lentils on the stovetop using the directions on the package.
Preheat your oven to 350 degrees F.
Then, heat up your oil in a large skillet over medium heat. Sauté your chopped onion, garlic, lentils, tomato paste, and chopped sage for just a few minutes. Add the cooked lentil mixture to the bottom of a baking dish.
Lastly, spread the cooked and mashed potatoes on top of the lentils and then bake the whole thing for 20 minutes in the oven at 350 degrees F.
Let the shepherd's pie cool for a few minutes before serving. 
notes
You can make the mashed potatoes up to several days in advance. Store them covered in the refrigerator until you're ready to use them.
You can use fresh or dried thyme, rosemary, or oregano in place of the sage, if you prefer.
Store any leftovers covered in the refrigerator for up to 4 days. Reheat before serving.