Visit our e-commerce website for Conferences, Webinars, Medical Membership, eBooks etc [More Details]
Medical Professionals Become an LDN Specialist [More Details]
These Vegan No-Bake Brownies are the perfect treat that are also paleo-friendly, gluten-free, and grain-free. This easy clean eating dessert recipe can be made in 30 minutes or less.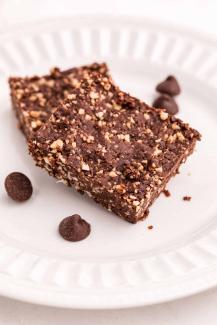 1 1/4 cups slivered almonds
1 cup pitted Medjool dates (about 10 pieces)
1 tablespoon coconut oil
3 tablespoons unsweetened cocoa or cacao powder
1/2 teaspoon vanilla extract
1/4 teaspoon sea salt
1 cup chocolate chips
Place the almonds, dates, coconut oil, cocoa powder, vanilla extract, and sea salt in the base of a food processor.
Process on high for about a minute, or until the mixture starts to get crumbly.
Stop the food processor and add the chocolate chips. Process an additional 30 seconds or until the chocolate chips break up a little bit.
Remove the lid from the food processor and transfer the mixture to an 8-inch by 8-inch glass baking dish. Use your hands to press the mixture evenly into the baking dish.
Refrigerate the brownies for at least 15 minutes so the mixture can start to firm up.
When you're ready to serve the brownies, use a knife to carefully cut the brownies into 12 pieces. Serve cold or at room temperature.
notes
These brownies will keep in a tightly-sealed container in the refrigerator for up to 5 days. You can also freeze any leftovers for up to 2 months.