Visit our e-commerce website for Conferences, Webinars, Medical Membership, eBooks etc [More Details]
Medical Professionals Become an LDN Specialist [More Details]
Here's a quick frozen treat that only takes a few minutes. You only need your high-speed blender to make this delicious Vitamix Mango Sorbet. This recipe is made dairy-free and is so refreshing!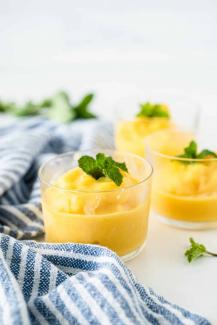 ½ cup unsweetened almond milk
¼ cup maple syrup
3 cups frozen mango chunks
In the base of your Vitamix, combine the almond milk, maple syrup, and frozen mango chunks.
Turn the blender on high, using the tamper to help push the frozen fruit into the blade.
Stop and scrape down the sides, if necessary.
Blend for approximately 30-45 seconds, or until the mixture is thick and creamy.
Serve immediately.
notes
If you want a lower sugar version, feel free to leave out the maple syrup. Increase the almond milk to from ½ cup to ¾ cup to ensure you get the right consistency.
You can also use orange juice instead of almond milk, if you prefer.
If you want an even thicker and richer result that is more like ice cream and less like sorbet, you can use canned coconut milk instead of almond milk (see my related recipe for Vegan Mango Ice Cream).
This sorbet is best served right after it is made. You can freeze it up to a few hours to get a thicker consistency, but it will freeze very hard if left in the freezer longer than a few hours. In that case, let the sorbet sit on the countertop for 10-15 minutes to thaw a bit before consuming.
You can substitute any fruit for the mango, including frozen strawberries, frozen raspberries, or frozen sweet cherries. If you want to make raspberry sorbet, you might consider also adding some fresh lemon juice to help balance the flavors.