What Are Your Recommendations for Handling Vivid Dreams While Taking Low Dose Naltrexone (LDN)?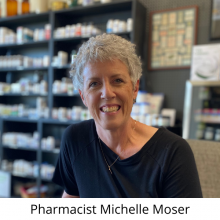 Pharmacist Michelle Moser
What Are Your Recommendations for Handling Vivid Dreams While Taking Low Dose Naltrexone (LDN)?
The question is:  My daughter has vivid dreams.  She struggles to wake up with LDN. Is this a known side effect and what would you recommend how to reduce this side effect.  She's struggling to get through University.  She was on 4.5 milligram in the past but was restarted low again and has built up to 2.7 milligrams.  The side effects with LDN is pretty small but when the individual is having vivid dreams a lot of times that feels huge so that's when we will move the dose to the morning and many of the practitioners and providers out there are showing that their success rates with LDN are very similar if it's taken during the day versus at bedtime.  This is based on the individual.  It is also very much based on the rationale or the reason behind why we're using LDN. Unfortunately, we don't know why your daughter is using this but if she's currently on 2.7 milligrams once a day it looks like she's using a liquid and what we have learned over the last probably five to seven years is that with LDN less is more it's really not about finding and reaching a 4.5, 5, 6, 7 milligram dose it's really not about that what we've learned through Dr Norman through Dr Anderson through Dr Salibi through Dr Dada many  practitioners out there Dr Zielsdorf, Dr Holtorf every LDN routine has got to be based on that one individual and only that individual.  Not what their identical twin is taking. Not what their husband is taking.  Not what their best friend is taking.  Not what they've read on even LDN Research Trust Facebook page.  It's really about you and what's going to work for you.  If you're having vivid dreams or other side effects it's best to stop for a couple of days and then start way down at the very bottom and slowly increase.  Start with 0.1 milligram or 0.25 and work it up and increase that very slowly every 7, 10, 14 days so that we can hone in on what's going to be the best happy dose for that person.  Four point five (4.5)  is not the magic dose.  I would guess that maybe 50 percent of the population is on 4.5 at this point.