What is the stability of dissolving Low Dose Naltrexone (LDN) tablets at home?
Visit our e-commerce website for Conferences, Webinars, Medical Membership, eBooks etc [More Details]
Medical Professionals Become an LDN Specialist [More Details]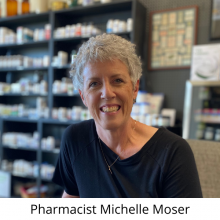 LDN Specialist Pharmacist Michelle Moser
What is the stability of dissolving Low Dose Naltrexone (LDN) tablets at home?
What is the stability of LDN that I make at home by dissolving a 50-milligram tablet in water? Is it reasonable to keep the solution in the refrigerator for up to two weeks of use?  No. That's the short of it.  No. This is because in the United States the commercially available tablets are generic products Naltrexone, the 50-milligram tablet. So they are made with lactose and a few other fillers, some of which are soluble, some of which are not.  The other issue to is that the FDA allows that commercially available tablet to vary plus or minus 10 percent.  So it may say that it's a 50-milligram tablet but you don't really know if you've got a 45-milligram tablet all the way up to potentially a 55-milligram tablet.  To get a very precise dose you're really not going to know how much to take.
The other issue too is that stuff grows in water, and sometimes it's really icky stuff, and you can't necessarily see it.  Sometimes it is I mean, even in distilled water or pre-boiled cooled water, can still grow pathogens, and I think, in my professional opinion, I've been a pharmacist for 35 years, please let the professionals take care of you.  Most people have taken years, if not decades, to finally get a prescription for Low Dose Naltrexone. Please do not compound at home, let the professionals take care of you, and let us help with the fillers that are appropriate for you. Perhaps the dose that is applicable it can be made in a liquid that is very stable that we've tested.  It can be made in, and most of the time those are oil-based. They can be water-based but they're not.  It's not like we pour water and then dump a tablet in, and you know fizz fizz fizz that we don't do that.  We work with very stable bases, to begin with, and that is really important.  I will say that this question comes up a lot, especially on the Facebook feed. 
We're not, we're not asking you to spend loads and loads of money.  We understand that everybody has a budget.  We understand that everybody has to live within their means.  We also understand how people have gotten in trouble by making their own stuff at home because sometimes they actually go backward because of a new pathogen that's been introduced to the body or their dosing is off.  You can literally have one batch of tablets that is a completely different dose than the next batch, and the thing is that we, as pharmacists, when we order those tablets to then count and dispense to patients, have no idea what we're looking at.  None of those batches are tested every single time.  In fact, I don't even know commercially how often they are tested in a compounding lab.  I know that testing is done much more frequently than what it's done out in the commercial world, and then also when you're working with a compounding pharmacy, you're dealing with a Low Dose Naltrexone expert that if you do run into questions, you do run into issues, we're right at your fingertips.  You can literally call us up, let us know what's going on, or text us.  You can also walk into the store and ask questions and that's the biggest difference.
Is it stable for two weeks?  Absolutely not.  I mean, you're maybe three days, even in the fridge, but just don't do it at home.  Did I strongly agree with you there?  We are having a state at the moment in the UK and the EU of doctors prescribing 50-milligram tablets with instructions to dissolve in water, and if we're having to re-educate, I don't know, it must be coming from Facebook or something.  But basically, in the UK, again, our original formulations use the branded Malorex, which, but again that doesn't exist anymore in any quantity, and all we have now are these very, very sporadic genetics that are film-coated or their entire codes I mean there are all sorts of stuff going on in these and if you try to dissolve one of water goodness knows what would happen, and people actually get quite I'd say maybe twice a few times a day people quite upset at us over the phone because they've sent us a prescription for four 50 milligram tablets with instructions to dissolve it in water and we're just saying we can't it's not safe.