Why Are So Many Doctors Resistant to Low Dose Naltrexone (LDN)?
Visit our e-commerce website for Conferences, Webinars, Medical Membership, eBooks etc [More Details]
Medical Professionals Become an LDN Specialist [More Details]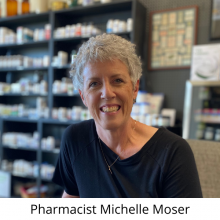 LDN Specialist Pharmacist Michelle Moser
Why Are So Many Doctors Resistant to Low Dose Naltrexone (LDN)?
This question is very interesting. Why are so many doctors resistant to LDN? And why?  That's a great question. It is one that I ask often. As a compounding pharmacist, I love educating, I love teaching.  I take that on as a personal mission.  I love teaching providers about Low Dose Naltrexone. It is not taught in school.  It's also not a commercially available product so there aren't a lot of drug representatives out there.  You won't see commercials about it on TV or in magazines or radio or anything like that. The information has to come from these quieter channels.  Usually from a compounding pharmacist or their marketing team, their education team or even directly from patients.  
Low Dose Naltrexone has been studied extensively since 1985. There are well over 900 - 950 articles, scientific papers, research papers, clinical abstracts, and double-blind studies done on Low Dose Naltrexone.  I really challenge anyone in the medical profession to find another medication that's so well studied, but still not commercially available.  It's not commercially available because it's really inexpensive. It's under the threshold that commercial manufacturers really want to study because there are so many nuances with dosing and finding that individual happy dose.  It's difficult to say, "I'm going to make a one and a half milligram tablet and the dosing is one and a half milligrams for a certain period of time, three milligrams for a certain period of time, and then four and a half milligrams."  That's just the way it should be.  That works about 50 percent of the time at least in my clinical experience over the last 10 years or so.  That hits about 50 percent of the patients, which means about 50 percent don't respond. When physicians hear that, they are like, "I don't know if I want to go there."   
It is an FDA approved product but it has to be compounded.  That is where the information needs to come from.  I don't want to put anybody down and I, and I certainly don't want to put up any roadblocks to hearing a message or to educational pathways but some providers are really down on what they're not up on.  A lot of times when they Google, they just put in Naltrexone and then up comes all this information that it is used for alcohol overuse syndrome, and we use this for methadone withdrawal.  But wait a minute, wait a minute, time out, time out.  Time out.  Low Dose Naltrexone is really what we're talking about.  That's where we need to direct our providers to researching the information. 
Honestly providers are so busy it's really difficult to educate them in the seven minutes that you get to spend with them.  This is what I recommend.  This is what our education team does as well.  There was an article that was summarized back in 2017 by some physicians at Dartmouth University.  They took the first 900 articles and summarized by disease state, the mechanisms of those articles, the dosing parameters and the outcomes.  They summarized it into one paper.  One paper and it's pretty lengthy but it should be. It covered over 900 articles.  That's the first piece that I give them and the reason is is because it lets the medical provider know we honor what they do and that we are here alongside you to help your patients feel better.  A lot of times these are very intense patients who have a lot of need, who have a wide variety of disease states, they tend to be a little more complicated. We're here to help you be the hero and really impact patients' lives. As a compounding pharmacy, we're going to help hold your patient's hand and use very specific questionnaires to then evaluate where they're at now, where they're at in four weeks, where they're at in eight weeks, where they're at in two months, four months, six months.  We're going to take all that burden off of your plate.  We're going to help you follow your patients and you're going to have access to all of this information.  That is the message that we go to with a wide variety of providers.  
The bottom line is it's not commercially available.  They're not hearing it in their traditional continuing education programs, they're not seeing it in a wide variety of magazines or online subscriptions.  They have to hear it from patients and from compounding pharmacists.  Then it's considered maybe a little taboo, maybe a little Voodoo, maybe a little off from the norm.  Fifty percent  of all prescriptions written in the United States are written for off-label use so why not Low Dose Naltrexone?  Why not Low Dose Naltrexone?  It's low dose, it's low risk, low side effects, low expense.  Sounds like a winner to me.