Oregon State says these are good for kids, but I say they are good for anybody who wants easy quick pizza without the carbs.  If you are on a strict ketogenic plan, either minimize the pasta sauce or replace it with fresh chopped tomatoes.  Use more zucchini and/or less cheese if you want to make this even healthier.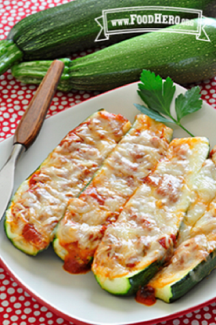 Ingredients
2 medium or 3 small  zucchini
1⁄2 cup tomato based  pasta sauce
1⁄2 cup shredded  mozzarella cheese
2 Tablespoons parmesan cheese
Directions
Heat oven to 350 degrees.

Wash zucchini. Trim ends and cut each in half lengthwise. Use a spoon to gently scrape out soft, seedy center of zucchini.

Place zucchini halves in a small baking dish. Spoon pasta sauce into zucchini halves. Top with mozzarella and parmesan cheeses.

Bake for 25 to 30 minutes or until zucchini can be pierced with a fork and cheese is bubbly and brown. Serve warm.